Astro is an Amazon robot that was created to infiltrate our homes and make us fall in love with it.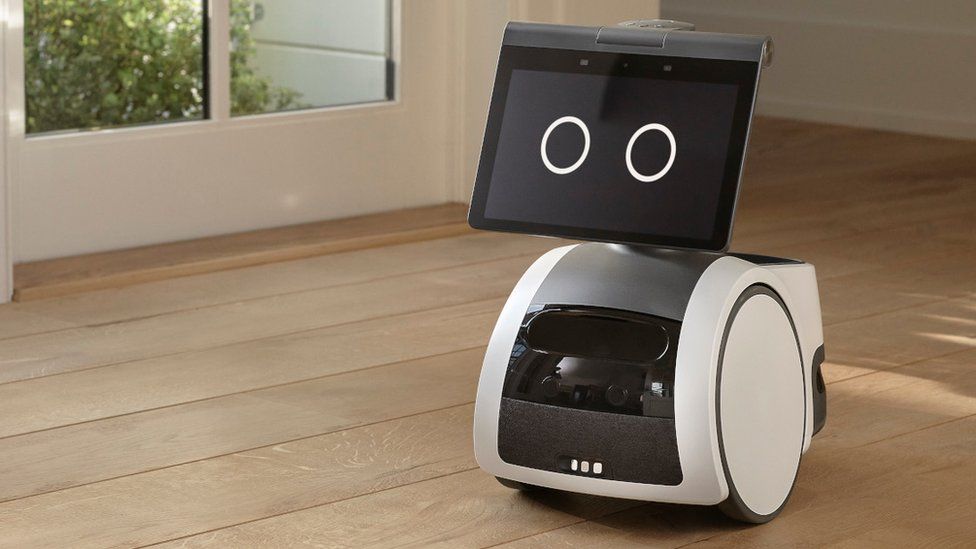 From its big-eyed look and small size to its limited functions, everything about it is geared to win our trust. But what happens if the kids mistake it for a living creature or start receiving ads from their new pal?

Amazon revealed Astro, its "home robot," on September 28. The $999 (€860) automaton, which has two wheels and a rectangular screen with two orbs for eyes, will be able to keep a watch on the house and join unexpected dance parties, according to the launch video.

There's cause to be skeptical, especially since Astro is essentially a gigantic camera on wheels that will monitor everything we do. Why would anyone want one in their house, then? The explanation for this is due to the way our brains function. People can't help but fall in love with robotic assistants and pets (or "robopets"), according to years of robotics study and prior incarnations.

Owners can develop a strong bond with their robopets. Scientists discovered that robopets like Paro (the robotic seal), Justocat (the robotic cat), Aibo (the robotic dog), and Cuddler (the robotic bear) reduced depression and improved the well-being of older people who happily petted them despite knowing they were not real animals in a review of studies published in 2019. "I know it's an inanimate item, but I can't help but love it," one woman explained.

It isn't all about the robopets. The Roomba disc-shaped self-propelled vacuum cleaner is commonly regarded "part of the family" and can even be given a gender and a name, according to several studies and anecdotes. Some people grieved when the servers that powered Jibo, one of the earliest "social robots," were shut down. Aibo, Sony's robot dog, was entirely useless, but when it was deactivated when the company halted manufacture, some people conducted funerals for it.

What motivates us to do this? According to Mark Edmonds, a computer specialist at the University of California, Los Angeles (UCLA in the United States), it all starts with trust. Edmonds has investigated why people trust robots and argues that, by default, we trust machines to perform what they have been trained to do. That means that rather than generating confidence, machines must preserve it.

In the instance of Astro, there are two levels of trust. On the surface, there is faith in Astro's ability to execute tasks efficiently and correctly. The deeper issue with Amazon is its erratic track record when it comes to spying and privacy, which is especially problematic given that Astro is largely used for home surveillance. However, Edmonds believes that if Astro simply performs what it's told, some users will be less critical of the second, more serious trust issue. "Prior to addressing privacy, Astro must first address functioning." According to Edmonds, "functionality is a more demanding technological dimension."

Although it may appear difficult to persuade people to trust Astro, Amazon has integrated some essential design aspects, beginning with its "eyes." Astro may not be cute because its "face" is really simply a screen with two circles, but the circles resemble bigger eyes, and its size are similar to those of a child or a newborn animal.

Robopets have long been built with large eyes and bright mouths to appeal to the human brain immediately. Sherry Turkle, an MIT researcher, began examining youngsters who engaged with Furbies in the early 2000s. Despite the fact that they were toys, she discovered that kids acquired a strong relationship to them, owing in part to their physical look.

Turkle found that the eyes of the therapeutic robot Paro make people feel understood and "inspire [a] relationship...not based on their intelligence or awareness, but on the ability to touch certain 'Darwinian' buttons on people (making eye contact, for example) that cause users to respond as if they have a relationship" in a 2020 follow-up study.

Astro's ability to relate to children may be extremely appealing to children. Astro's height, eyes, and sweet looks, according to University of Louisville assistant professor Judith Danovitch, who studies how children interact with Alexa, are definitely "personality cues" that can fascinate and mystify children, especially younger ones who are trying to figure out how to interact with other people.

"For babies, being self-propelled is a sign of animation. "In nature, humans and animals move by their own motor power. Inanimate items, such as rocks, do not. "Understanding this will be difficult for young children," says Danovitch.

Astro may have a secret weapon for making us fall in love, but it isn't quite ready yet. According to documentation obtained by Vice, the robot is not as agile as the debut video portrays (Amazon denies this). With its built-in camera, it can currently patrol the house, play music, and make video calls. It can tell which room you're in and identify amongst your housemates using facial recognition.

For the time being, that's all there is to it. However, this isn't always a bad thing. Astro's limited set of features could be crucial in assisting its integration into our households. Several studies have found that individuals quickly lose faith in robots that are unable to execute basic functions. "When machines are irrational or do something we don't expect them to do," Edmonds says, "trust falls away." Astro's limited abilities may reduce its possibilities of making a mistake (and scaring us).

"Ease of use is often a more crucial indicator of acceptability of home robots than their stated usefulness," says Heather Knight, an assistant professor of computer science at Oregon State University in the United States who studies human-robot interaction. The fact that you can utilize voice assistants like Alexa by simply plugging them in and shouting their name and a command is what makes them so effective.

Astro is clearly seen as a potential family member by Amazon. "We think Astro will be great for families," said Amazon spokeswoman Kristy Schmidt in an email. "As we explained in our blog post introducing Astro, 'In testing, we've been impressed by how many people said Astro's personality made it feel like part of their family, and that they would miss the device in their home once it was returned.'" It's in the design to make youngsters like Astro: Astro, according to Schmidt, is compatible with Amazon Kids, an Alexa feature that allows kids to connect with and play with the company's smart speakers.

As robots grow more integrated in our lives, the line between work and personal life may become increasingly blurred, posing a complicated conflict of interest. What are the ethical implications if our robot tries to sell us something from its maker after we form a relationship with it?

This could be particularly troublesome for children, who lack the ability to recognize that advertisements may portray a product or service that differs from what they see on TV or in other media. "My expectation is that when Amazon tries to share something and send a persuasive message, they'll be perplexed," Danovitch predicts. This could trigger a cascade of ethical difficulties.

Despite this, we're likely to get a future version of Astro and fall for it since we're human and that's what we do.
Article By Gerluxe Image: BBC